Back to Store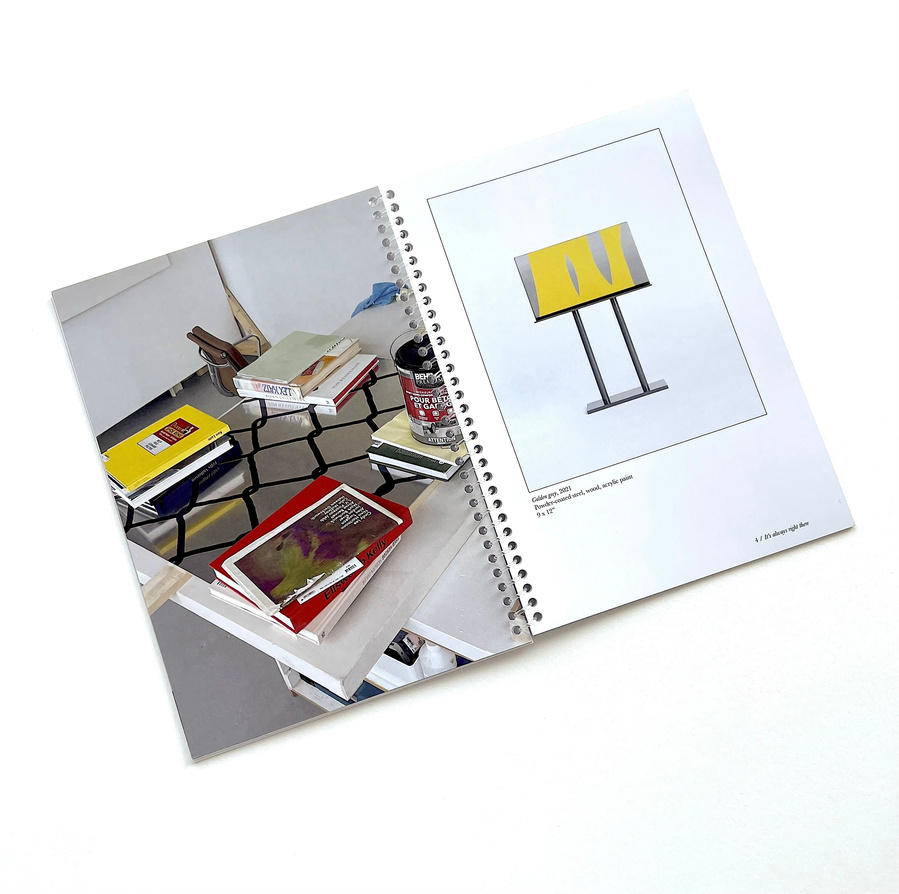 It's always right there
$30.00 Sold Out
ARTIST BOOK DESIGNED AND PRODUCED BY BRICK PRESS.
It's always right there Introduction
Drifting away from Climan's typical technique of traditional painting, a revised vision of his preferred medium, acrylic paint, in the form of scaled billboards, take shape as sculptural paintings in his newest works. Much like Climan's paintings, this body of work uses robust base materials. However, this offering comprises welded and powder-coated steel instead of their canvas-stretched-over-wood-panel counterparts. Perhaps an ode to permanence, the context and inspiration for his artworks are informed by cinema, nostalgia, feeling, and old-time signage, an era with a coating of dust and visible patina, but one that carries integrity lost in the years succeeding.
Perhaps it is helpful to consider the viewer of these works, which resemble billboards, by proposing questions that materialized during their creation. Climan examines the vessels commonly used for advertising and considers the significance of placing a painting within one. Expanding on this idea, are these works considered billboards anymore? Are these perhaps prototypes for more extensive or scale billboard placements? What is the significance of these particular images and figures within a billboard-like object? How do these 3D figures and Climan's work at large fit within the contemporary art market? And what does it mean to transform a structure typically used for advertising or to promote social awareness into a commodified object itself? Inquiries like these intersect with Climan's studio-based practice. Although there may not be an immediate and firm resolution to them all, he knows that while making his works, It's always right there.
Ryan Smith
Co-founder, Brick Press